I invite you to come hiking with me on Barbados, there is no better way to really see the island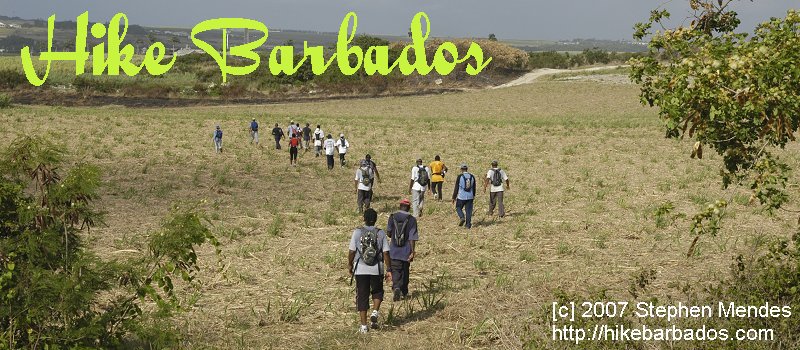 Thank You for visiting this STEPHEN MENDES website, I invite you to come hiking with us on Barbados.... Hiking is good for your health (and there is no better way to see all of Barbados).
NEW HIKING VIDEOS (updated 10 September 2013).... Click HERE to watch them on

right now !
If you are on FACEBOOK

check our App at the bottom of this page
PHOTOS from our hiking and caving expeditions around Barbados
Paid, private (customized, guided) hiking is listed below:
Choose from our 2-mile, 4-mile, 6-mile, 8-mile or 10-mile scenic tourist hikes.....
and enjoy hiking personalised for your needs
Recommended on Trip Advisor - READ THE REPORTS
Contact Information:
email address is reservations@hikebarbados.com
email address is hikebarbados@yahoo.com

Stephen Mendes                        Tel: (246) 230-4818
Doverdale, Nelson Road                     (246) 266-8027
Navy Garderns, Christ Church
BARBADOS

Free, public hiking below (no reservations are possible.... simply show up on time):
The BARBADOS NATIONAL TRUST 2013 hiking schedule is HERE
This information is provided as a public service, Stephen Mendes of Hike Barbados does not participate in free hiking
Other things to do on Barbados.... and information about Barbados.... listed below:
Below you can find other exciting things to do on your vacation..... hire a rental car ..... or checkout a couple of suggestions about where to stay in Barbados:
extensive information about Barbados is available at Barbados Vacation Travel Guide
Hiker's holiday ? ... best option for health and exercise conscious accomodation... HEALTHY HORIZONS
---
Thousands of photos of Barbados scenery, life and culture are waiting for you on.....



Stephen's Bible Insights: Serve the LORD with gladness (Psalm 100:2)